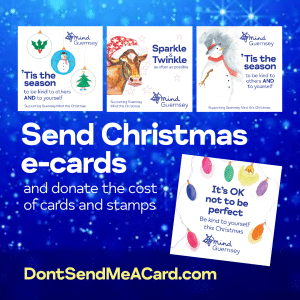 Support Guernsey Mind and send e-cards this year
It's really simple – make a donation of what you would have spent on cards and postage and you can then send up to 100 eCards via email, WhatsApp, and Messenger. Make a difference to our charity with the cost of cards, save time and paper, and help the planet.
Four of the designs were created by our Art Psychology group and you can add your own personalised message.
This is the first time we've tried this, so if you do get any issues or would like images sent to you directly, please contact us at
[email protected]
,gg
Win a locally handmade Rocking Horse
Guernsey Mind, in partnership with Les Cotils, is thrilled to announce a charity raffle with a unique prize – a beautiful, brand new, locally handmade rocking horse. This one-of-a-kind piece, with detailed woodwork, painting, and leatherwork all created by local craftsman Steve Glass, also features a real horse hair mane and tail and a secret time capsule hidden inside.
The rocking horse is on display at Les Cotils for those who want to see this stunning piece before joining the raffle. Tickets are available at £2 each with all proceeds from the raffle going towards supporting the work of Guernsey Mind and Les Cotils.
The draw will take place on Wednesday, 20th December. Visit Les Cotils or contact Guernsey Mind on 01481 722959 to get your tickets.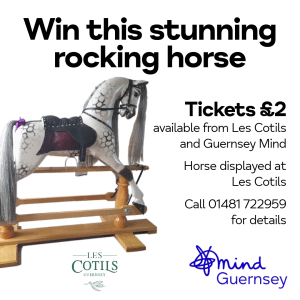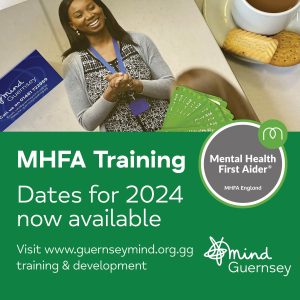 Register your interest…
Mental Health First Aider Training
2024 dates now available
Our MHFA

training

dates for 2024 have been released and you can register your interest.
Seeking help is often the first step towards getting and staying well, but it can also be hard to know how to start and where to turn.
 
It is always OK to ask for help.
It can be very difficult to see someone who you care about becoming unwell, but you don't need to be an expert on mental health to offer support. Often small, everyday actions can make the biggest difference.
 
I need urgent help
At Guernsey Mind, we cannot provide a crisis service. If you need urgent help:
– Talk to someone you trust
– Contact your GP and request an urgent appointment
– Contact the Samaritans on their free and confidential helpline 116 123
– If you are concerned you might harm yourself or someone else, contact the Emergency Department on 01481 220000 or the emergency services on 999.
Support for under 18s
At Guernsey Mind, we offer support to those aged 18 and above, but there are some other places you can go to for support and advice.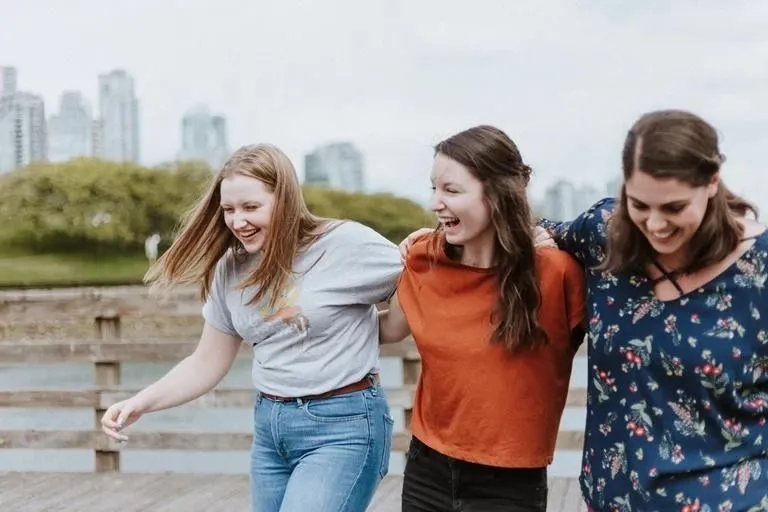 Guernsey Mind has been re-awarded the Mind Quality Mark

The Mind Quality Mark is a rigorous quality assurance standard. It sets the bar of good practice and legal compliance for all organisations in the Mind Federation.
Once every three years, local Minds are reviewed against the Mind Quality Mark standards. The reviews are led by people with lived experience of mental health problems and senior leaders from other local Minds. They are based on a robust assessment of documentary evidence as well as interviews with and survey responses from directors, staff, volunteers, and people who use services.
To achieve the Mind Quality Mark, local Minds must be well-run organisations delivering safe, life-changing support for people with mental health problems.