Our Guernsey Mind group sessions are open and available to anyone who wants to come along.
Hope Singers
Tuesdays 6.30pm at Vale Church
An all-inclusive community singing group which creates a supportive and safe space for people to meet and enjoy their love of music and singing. No experience needed.
For further information about Hope Singers, contact [email protected]
Drop-in Sessions
Tuesdays 10.00am at Shiloh Church
Thursdays 10.00am at Shiloh Church
Fridays 10am at Guernsey Mind Centre, Arsenal Road
Saturday 10.00am (user-led) Guernsey Mind Centre, Arsenal Road
A social and supportive space open to anyone needing support. Various activities planned which you can join in with if you choose.
For further information email [email protected]
Art Psychotherapy Group
Dealing with chronic illness
Wednesdays from 1pm at the Lions Mind Centre
The difficult emotions that living with a chronic illness can bring are not spoken about enough. 
Feelings can include grief, feeling overwhelmed, frustration, guilt, sadness, fear, anger, shame, loneliness and feelings of loss. 
They are all normal and it is OK to feel these things… you are not alone in feeling them.
Our art group gives an opportunity to share and explore these feelings in a safe space.
Drawing materials will be available if you feel like using them. You don't have to stay for the whole two hours. Spaces are limited.
Contact: [email protected] Call: 722959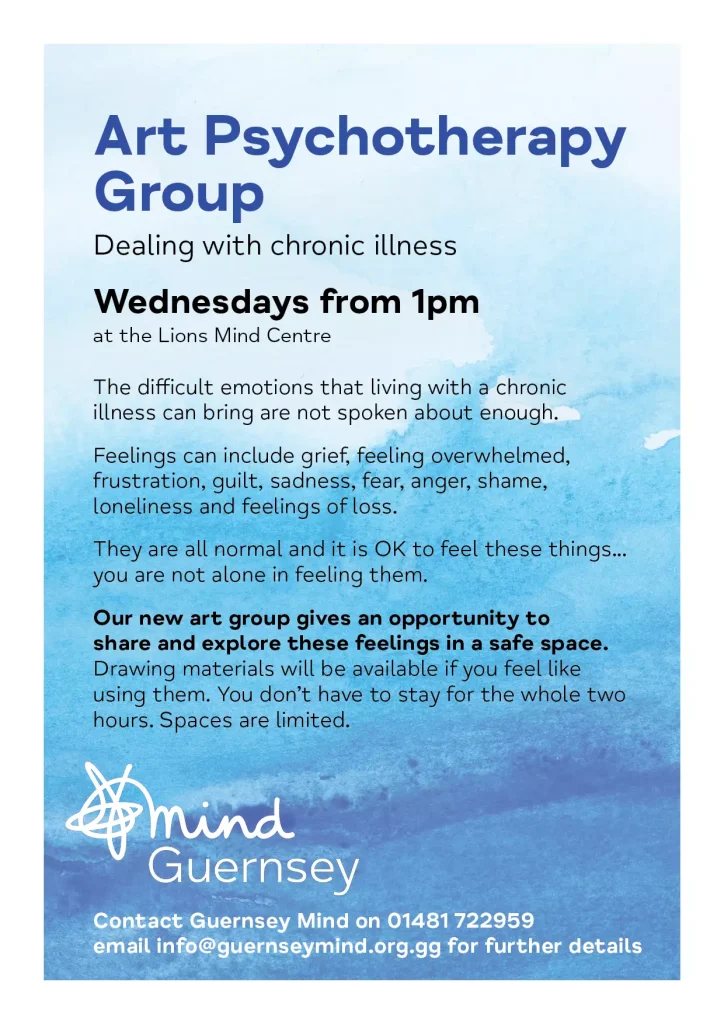 The Present
Various dates throughout the year
A half day session to introduce mindfulness and wellbeing to busy adults, focusing on encouraging friendly awareness towards experience in the midst of busy lives. 
For further information and dates email [email protected]